640hp 911 GT2 RS coming in '17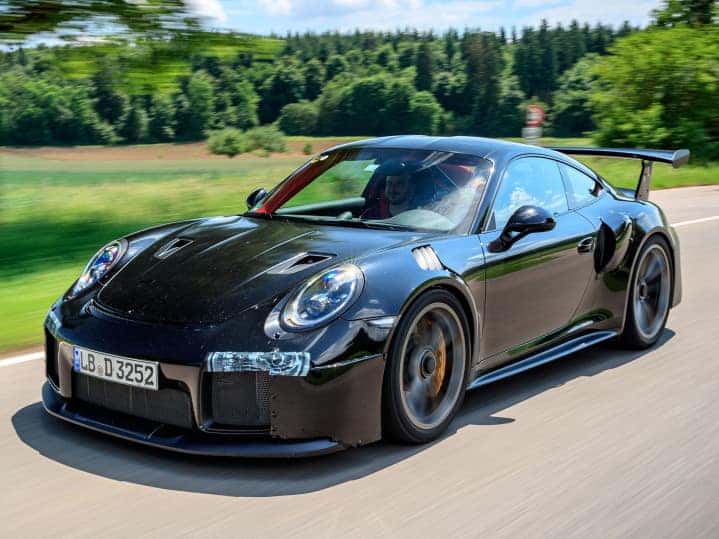 Porsche has confirmed its worst-kept secret.
A new 911 GT2 RS will arrive later in 2017 combining the track-focused handling of the GT3 with the power of the Turbo S. British publication Auto Express has revealed details of the new model after riding in a prototype version of the new car.
The long-rumoured car will sit at the top of the brand's performance car range. The engine is based on the same 3.8-litre turbocharged six-cylinder from the 911 Turbo S but thanks to new turbos, new water-cooled intercoolers and other revisions it should produce even more performance than the 427kW/700Nm of the Turbo S.
A conservative 641bhp and 750Nm are the numbers Porsche is willing to reveal prior to the car's actual homologation later this year, but in the tradition of the GT2 RS, the final numbers are certain to be a good deal more.
The engine will send its power to the rear wheels only, instead of relying on the all-wheel drive system of the Turbo S. The engine will be paired with Porsche's seven-speed dual-clutch transmission; with a manual 'box unlikely.
The suspension is reportedly based on the same set-up as the brand's Carrera Cup racing car.
To keep the GT2 RS on the road it will get a unique aerodynamic package that will include a large front splitter, racing-style rear wing as well as larger fenders. It will also feature a number of unique cooling elements, including large vents on the bonnet for practical purposes but that will also serve to visually separate it from the GT3.
Weight will be kept to less than 1500kg thanks to the use of lightweight materials including carbon fibre, magnesium and aluminium.
An exact date for the car's official unveiling remains secret but it is likely to be revealed in final production form at the Goodwood Festival of Speed in Britain later this month.