Button-free Porsche Advanced Cockpit preview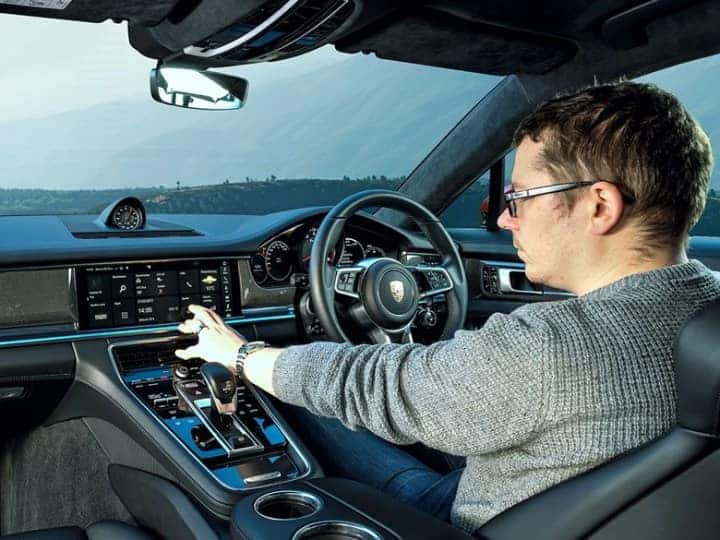 There are lots of good reasons to love the Porsche Panamera, including a new approach to eliminating button blindness: the Porsche Advanced Cockpit. (If you're familiar with aircraft, you'll recognize it as a "glass cockpit").
All analogue instruments except the centrally mounted tachometer have been done away with, and instead there's a 7in display mounted either side of it. On the left is a digitally rendered speedometer and safety info; on the right side is more general information. Both allow you to flip through various pages.
Where the Panamera goes a step further is with the center console. The 12.3″ touchscreen uses a proximity sensor to bring up a series of soft menu keys while the meat of the console itself around the gearlever is made of two flush black panels – just touch to operate.
You can customize the home screen with up to six configurable shortcut tiles to your favourite items, pinch to zoom and use two fingers to spin maps around, write nav instructions on to the screen and swipe left to right through some menu pages.
Download the PCM Connect app for your smartphone and this links your data with the car, so you can send directions and locations, transfer calendar appointments and use geotagged photos as nav destinations.
That much new functionality in a single hit can be a little baffling at first, but once you're in the driver's seat the layout doesn't feel too sci-fi. The main screen is a breeze to use if you've handled a tablet, especially once you know where to find what you're after.
Moving maps around is a cinch, and the text entry saves a little time; as soon as you've entered a letter it starts searching, so you rarely have to punch in more than a couple of characters.
Keeping a blend of analogue and digital is a nice touch, and the bigger mini-nav screen is appealing, while the upper section of the touch panel is smart and slick.
Much of the Panamera's new layout, while progressive rather than revolutionary, is a useful step towards your digital world linking seamlessly with your car. Configurable screens give flexibility and familiarity. Both make life easier for everybody.