Future Owners of Porsche 911 Turbo S Exclusive Series Sportscar Able to Buy Customized Porsche Watch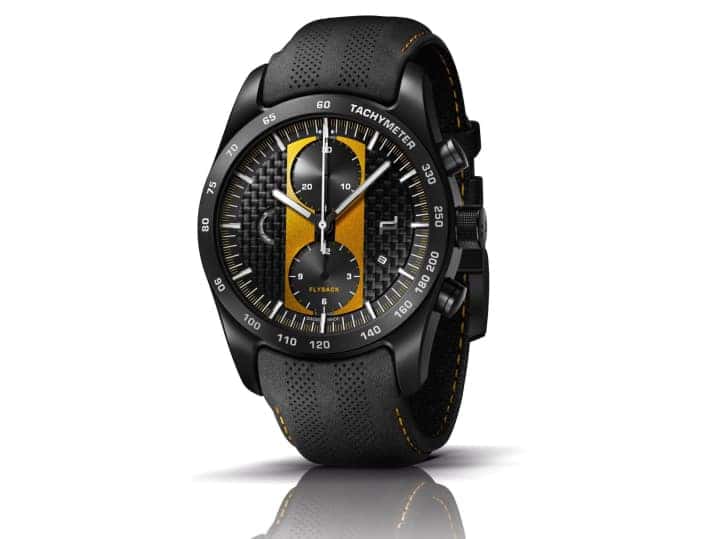 In Stuttgart, Germany, the Porsche Design company continues its steadfast collaboration with Porsche – unveiling a new custom-made Porsche Design Chronograph 911 Turbo S Exclusive Series watch that will be made available only to owners of the new Porsche 911 Turbo S Exclusive Series cars. Just 400 of the cars will be made, with a retail starting at about $257,200. Accordingly, just 500 of the Porsche Design Chronograph 911 Turbo S Exclusive watches will be made. Each can be fully personalized to coordinate with the design codes and colors of the new car. The watches retail for $12,650.
This partnership furthers an alliance made by Porsche and Porsche Design (makers of lifestyle products including watches, sunglasses, leather goods and more): "Porsche for Porsche Design." In this relationship, the two brands collaborate to be more in sync with one another. The first such relationship was with the unveiling earlier this year of the revolutionary Monobloc Actuator watches by Porsche Design, created with significant technological help from the engineers at Porsche.
For this new Porsche Design Chronograph 911 Turbo S Exclusive Series, the brand has developed its first in-house-made mechanical movement. The Caliber Werk 01.200 was three years in the design and development stages and is equipped with a flyback mechanism that automatically returns the chronograph seconds hand to zero to start timing again without the need for the wearer to hit restart. The movement with "stop, return to zero and restart instantly" capabilities is further equipped with an optimized-energy rotor (inspired by the wheel rims of the car) and houses high-tech materials, including tungsten. The COSC-certified chronometer movement is visible via a sapphire case back.
The 42mm watch is crafted of lightweight titanium with a black carbide coating and a carbon dial that recalls the carbon fiber strips of the 911 Turbo S Exclusive Series car. Additionally the same leather and yarn used for the seats of the car are used for the strap.