World premiere of the Mission E Cross Turismo Porsche at the 2018 Geneva Motor Show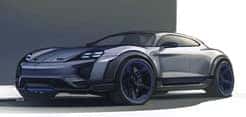 Atlanta, Georgia. The presentation of the Mission E Cross Turismo from Porsche at the Geneva Motor Show is a concept study of an electrically-powered "Cross-Utility Vehicle." Designed for individuals with an active lifestyle, the demand-controlled all-wheel drive easily handles varied weather conditions for practical year-round use. The interior offers plenty of cargo space while an exterior mounting system offers a solution for larger items like surfboards or bicycles.
The four-seater features an emotional design with striking off-road elements as well as a new display and control concept with touchscreens and eye tracking. The concept vehicle, which is 194.8 inches long, uses 800-volt fast-charging and can also be charged via induction or a charging dock and integrates seamlessly with a Porsche home energy management system.
Mission E Cross Turismo – the electric athlete from Porsche
Two synchronous electric motors with a system output of over 600 hp (440 kW) accelerate the Mission E Cross Turismo to 100 km/h (62 mph) in less than 3.5 seconds and to 200 kmh (124 mph) in under twelve seconds. This performance is in addition to a continuous power level that allows for multiple launches in succession without losing performance, which is unprecedented among electric vehicles.
'The Mission E Cross Turismo is an expression of how we envision the all-electric future. It combines sportiness and everyday practicality in unique style. Our vehicle will be fast to drive, but also quick to recharge and able to replicate its performance time after time,' says Oliver Blume, CEO of Porsche AG. The road-ready Mission E Cross Turismo is a continuation of the Mission E study that Porsche presented at the Frankfurt International Motor Show (IAA) in 2015. The production car will celebrate its world premiere next year.
Born from racing: the new 2019 911 GT3 RS with a 520 hp naturally aspirated engine
With the 2019 911 GT3 RS, Porsche will also be presenting the most powerful naturally aspirated road-going 911 ever in Geneva. The four-liter naturally aspirated flat-six engine is closely related to the unit used in the 911 race cars, generates 520 hp and is capable of up to 9,000 rpm. Technology derived from motorsport ensures that the chassis offers exceptional driving dynamics. The 911 GT3 RS can accelerate from zero to 60 miles per hour in 3.0 seconds and reaches a top track speed of 193 miles per hour.
Public Relations Department
Product Communications
Luke Vandezande
Phone: +1.770.290.3843
E-mail: [email protected]
David Burkhalter
Phone: +1.770.290.3511
E-mail: [email protected]
About Porsche Cars North America, Inc. | One Porsche Drive, Atlanta, GA 30354 USAEstablished in 1984, Porsche Cars North America, Inc. (PCNA) is the exclusive U.S. importer of Porsche 911, 718 Boxster and 718 Cayman; Macan and Cayenne; and Panamera. Headquartered in Atlanta, Georgia since 1998, PCNA is also home to the first Porsche Experience Center in North America featuring a module-based 1.6 mile driver development track, business center, and fine dining restaurant, 356.
The company operates a second Porsche Experience Center near Los Angeles. That 53-acre complex features a driver development track with eight educational modules totaling 4.1 miles, a business center, and Restaurant 917. PCNA employs over 300 people who provide parts, service, marketing, and training for 189 dealers. They, in turn, work to provide Porsche customers with a best-in-class experience that is in keeping with the Porsche brand's 70-year history of leadership in the advancement of vehicle performance, safety, and efficiency. PCNA is an indirect wholly-owned subsidiary of Porsche AG, which is headquartered in Stuttgart, Germany.
At the core of this success is Porsche's proud racing heritage that boasts some 30,000-plus motorsport wins to date.
Follow us: twitter.com/porsche | facebook.com/porsche
For Porsche apps: https://www.porsche.com/usa/apps-and-entertainment/apps/
Photos and video footage are available to accredited journalists on the Porsche Press Database at http://press.porsche.com/